Each is a Unique Work of Art
Most of our bookmarks are handcrafted with real pressed flowers.

In medieval times, bookmarks were created out of a small parchment strip as a way to mark one's place without causing its pages any harm since in those days, printed books were very rare and valuable. Some of the earliest bookmarks were used at the end of the 16th century and Queen Elizabeth I was one of the first to own one.
Mark your life with love
Open your heart to beauty
Offer inspiration to every life you touch
Today, bookmarks are far more common, but rarely will you find one as beautiful, or as high of quality, as we provide.
We offer the following lines of Bookmarks, each with their own unique and beautiful qualities: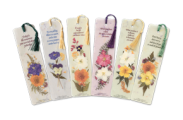 Each of these translucent bookmarks is an original handcrafted design
made with real pressed flowers and parchment paper. They are adorned with
wonderful quotes to give expression to your feelings.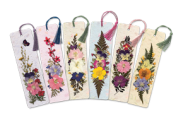 These exquisitely crafted real pressed flower designs are created by
our artists with attention to the finest details. This classic bookmark collection
is created on natural paper backgrounds and complemented by a color-coordinated tassel..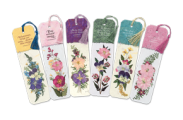 Handcrafted with real pressed flowers and scripture verses, these bookmarks
make treasured keepsakes, adding truth and beauty to our daily lives. Use them
for church outreach and special occasions or simply to grace your own Bible.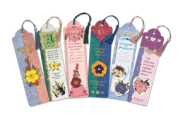 This collection of inspirational cards is
handcrafted with real pressed flowers and famous inspirational quotes.
Beautiful colors and classic designs make these bookmarks a thoughtful
gift to give or receive.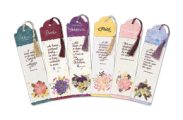 A combination of delicate flowers and favorite quotes make these
exquisite bookmarks an inspiration to the heart and mind.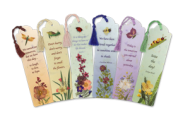 Handcrafted with real pressed flowers, our Garden Dwellers Collection
features our friendly little family of exotic creatures that live in our gardens.
Each little creature is created out of flower petals, leaves, twigs, and seeds
creating a sweet little art form for your personal enjoyment.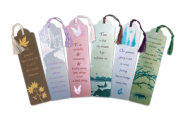 Each bookmark is adorned with unique art and uplifting words of wisdom.
The wonderful thing about this line of bookmarks is they captivate you as the
light reflects off of the metallic paper and holographic foils. Enjoy a brilliant
spectrum of color with exceptional details and craftsmanship.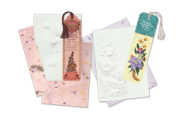 This collection has paired real pressed flower bookmarks with our beautiful
hand-crafted cards. Together, the card and bookmark make a perfect gift!